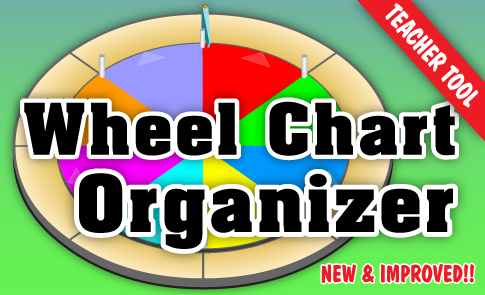 NEW & Improved!!!

A customizable Wheel Chart Interactive to help with organization in the classroom. Automatic timer and group switching along with group management and class setup.
Directions:
Note: This is a brand new version of an old teacher tool. If you find any errors/bugs please report them here.

To start using the Wheel Chart Interactive, you will be taken to a setup screen where you can create your class and groups. After entering in your students and assigning them to a starting group, save your class, select the class you would like to load in the wheel chart then click "Start Wheel Chart."

When using the wheel chart you can rotate your groups using the timer or manually. A sound will be played when time to change groups.

Classes are now saved to your user account.
Premium subscribers can save unlimited classes.
This game uses Flash which may not work on your device. Please check us out on a desktop or laptop computer to play our collection of Free Educational Games!

My device plays Flash!